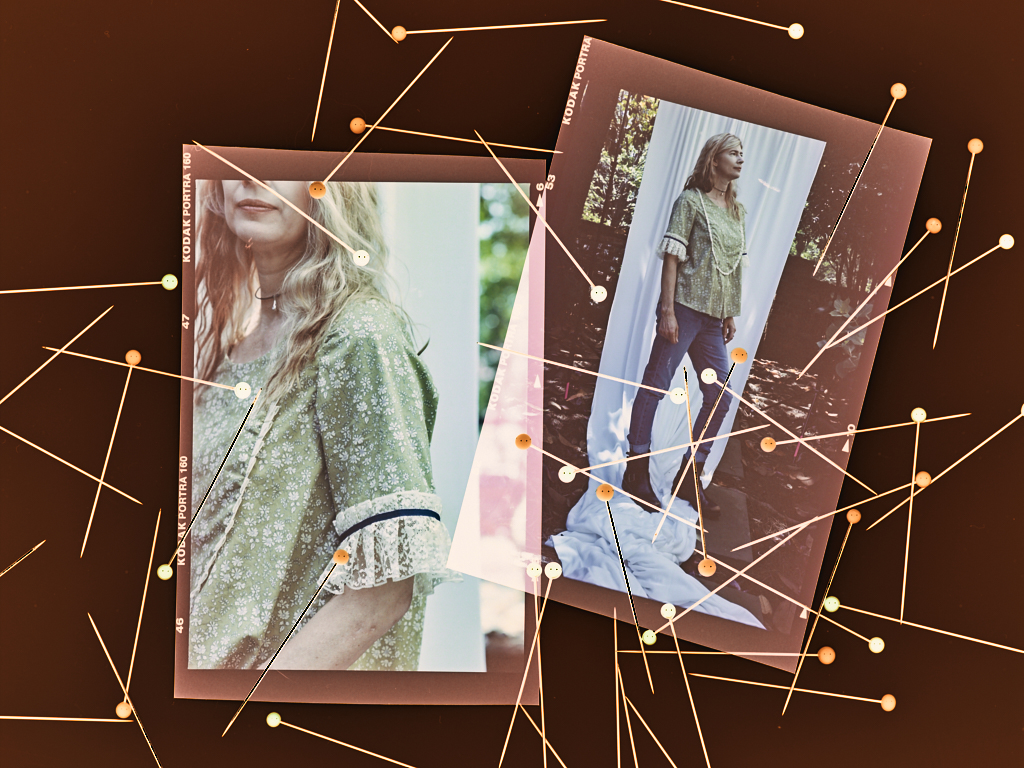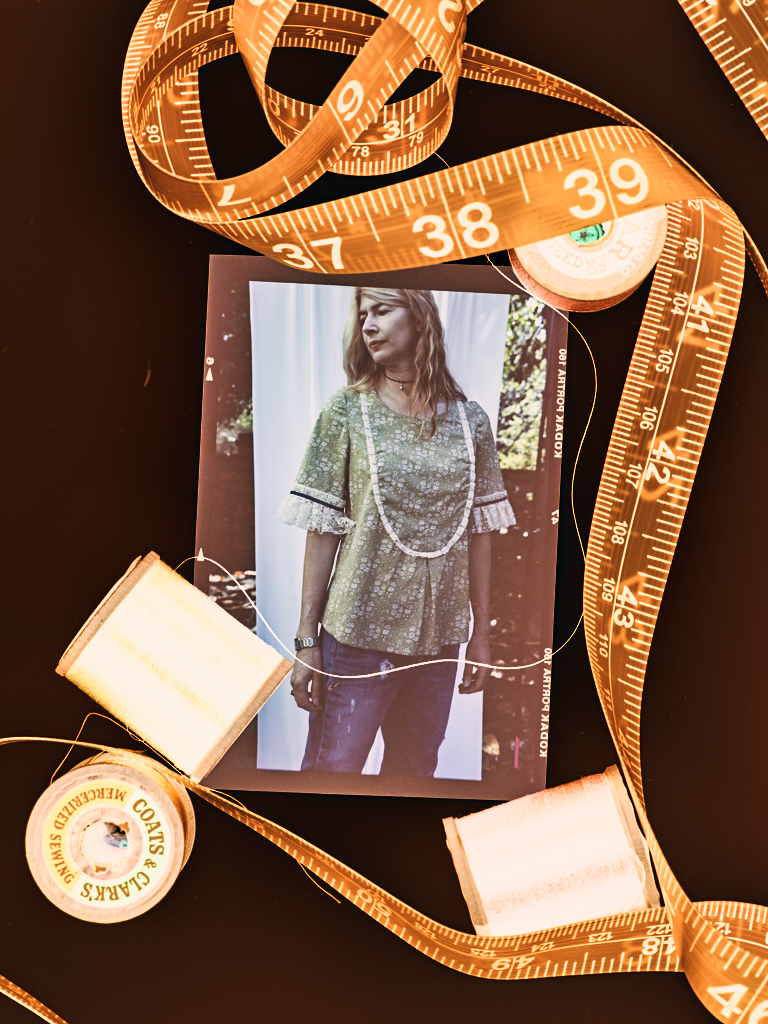 I've become really addicted to podcasts! For me, there's nothing better than listening to one while I'm sewing. One of my favorites is an episode of Revisionist History by Malcolm Gladwell that focuses on creativity. It's called Hallelujah. The way the episode unfolds is so beautifully done that I'm reluctant to even attempt to summarize it for fear of ruining it. So, I'm going to urge you to listen to it because there's no way that I'll do it justice. But I have a post to write, so here goes…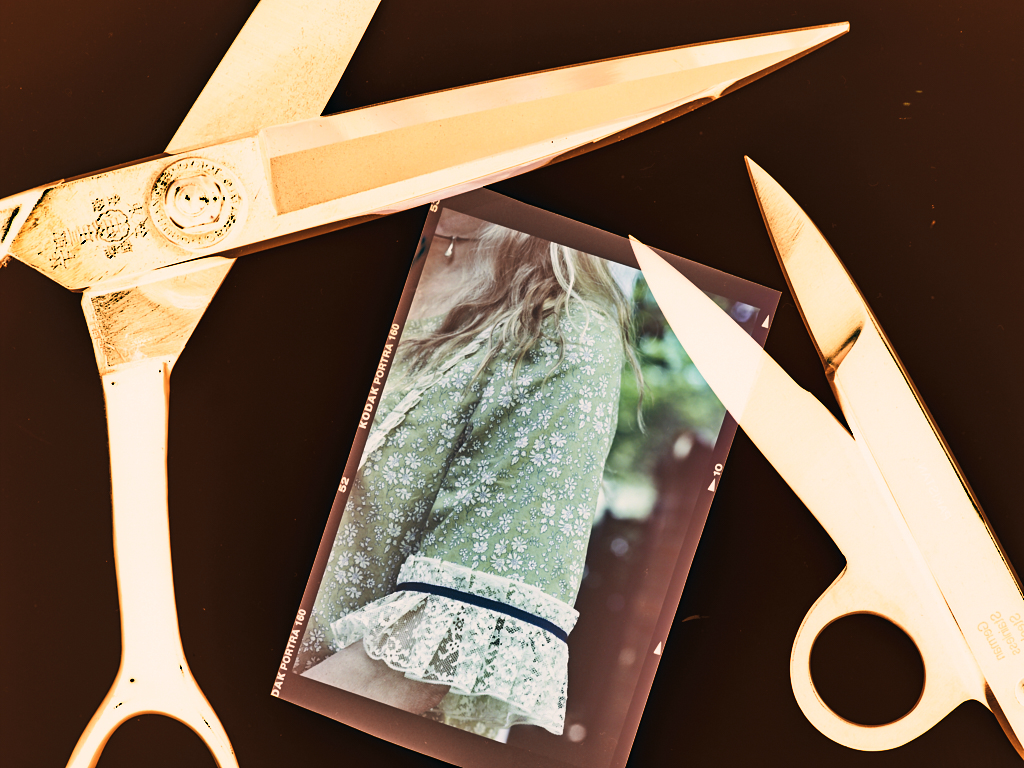 Throughout the course of the episode, Malcolm covers all sorts of creative territory by examining the music of Elvis Costello and the song Hallelujah by Leonard Cohen. But he starts by illustrating the concept of two differing types of genius. The conceptual artist and the experimental artist. And he uses Picasso and Cezanne to make his point. Picasso was a conceptual artist. He had an idea in his head, then set about to create what he visualized. Cezanne was an experimental artist. He painted and painted, trying to hit on what he liked. Kind of "I'll know it when I see it" approach.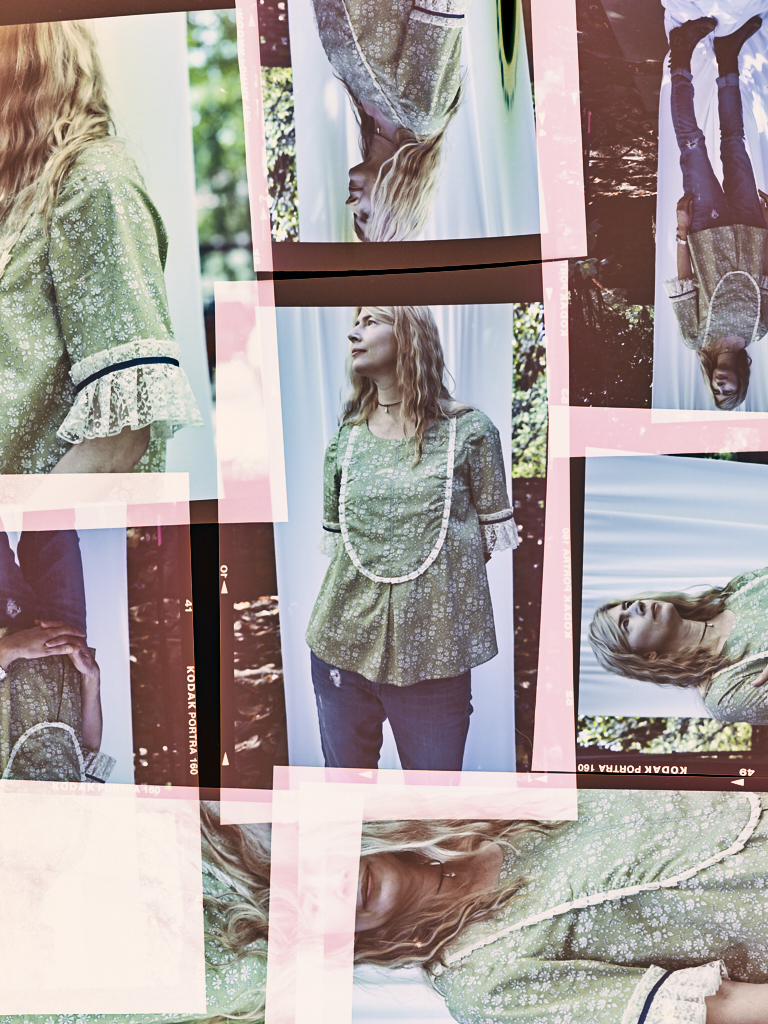 I'm pretty obsessed with the process of creativity and love to hear how other people make their work. I would also count Hallelujah as one of my favorite songs ever. So you can imagine that I've been telling all my friends about this podcast. Now I can't really control whether they will decide to listen to it or not, but with my husband Santiago, I put it on while we were in the car so he had no choice but to listen. (I didn't really have to twist his arm. He was a willing participant.) After the podcast was over, he asked what kind of artist I think I am and what kind I think he is. Please don't misunderstand, neither one of us think we are geniuses. But we are artists, and we do have a clear creative process. We didn't have to think too hard about who we are like. Santiago is Picasso. I'm Cezanne.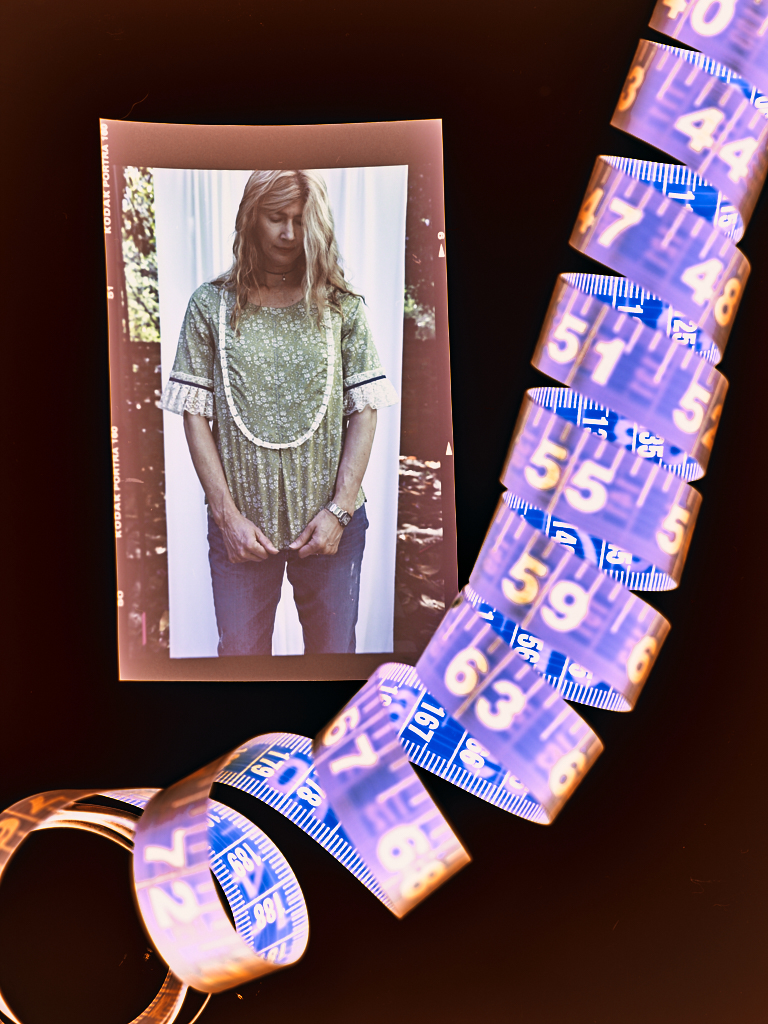 This post is a case in point. The idea for these images was fully baked before we started shooting. Santiago laid it out—this is what we are going to do and this is what it's going to look like. His plan—Photograph me with film. Arrange a still life using the negatives and photograph it. Then reverse the image digitally so that the negative reads as a positive image, but the objects placed within the still life would now read negative. I was skeptical, but pretty much, these images match his vision. Exactly.
For me, I have been chasing this idea of Everyday Couture. What that means to me is thoughtfully creating something special that can be worn on any normal day in my life. How do I fit together my love of fine fabrics and couture sewing techniques with my jeans and t-shirt lifestyle? If you have read some of my past posts, you will recognize this as a common theme. Well, I can tell you, the only way that I've been able to achieve this balance (WHEN I've achieved this balance!) is through a lot of experimentation. And I can also tell you that my misses outnumber my hits. But with each endeavor, I swear I'm getting closer to manifesting this goal.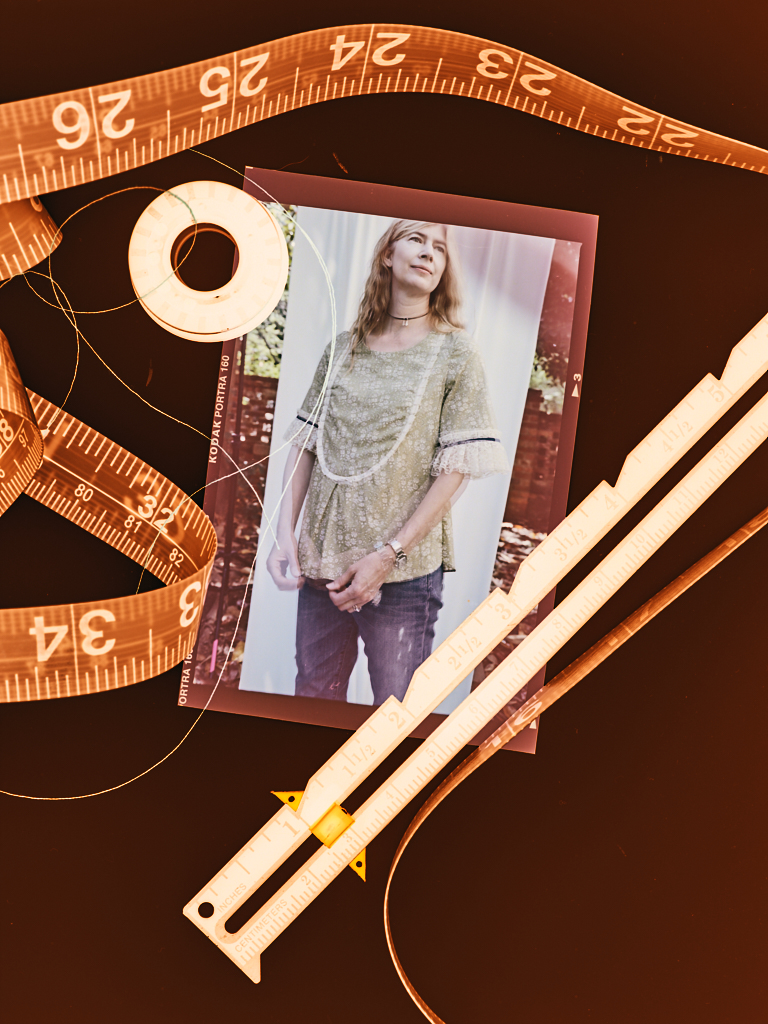 So, here's my two cent advice for the day. Don't worry if you've tried and failed. You're just Cezanne. You just need more time to experiment some. Get back in the game and make a beautiful mess! You may just accidentally hit on something fantastic.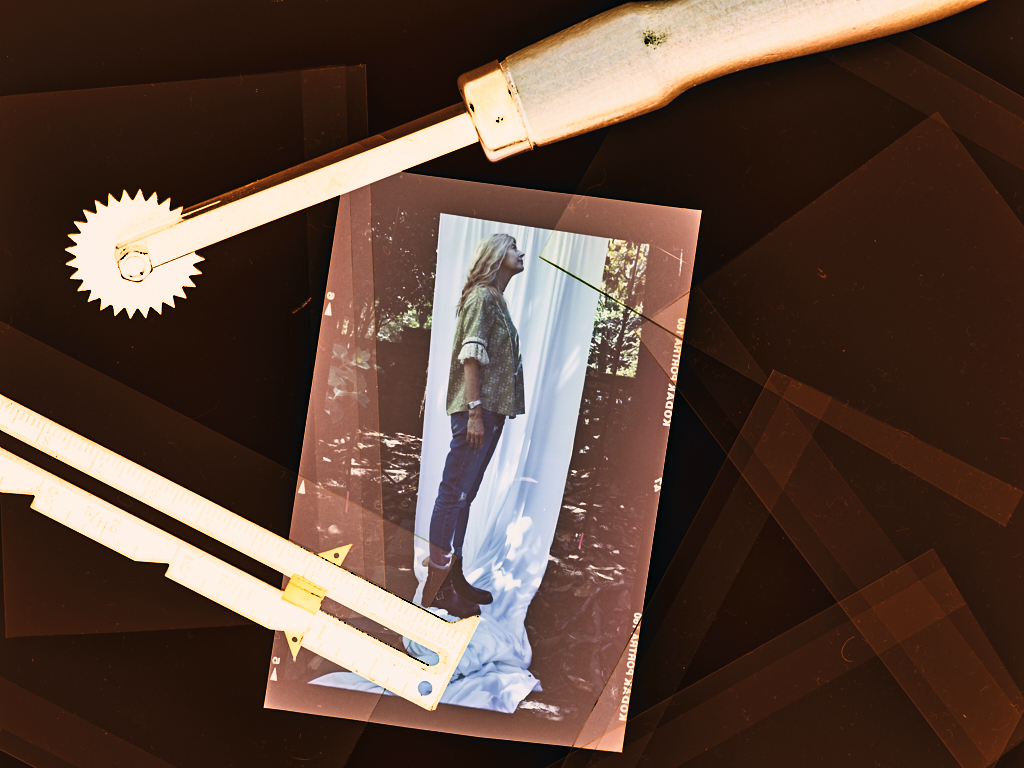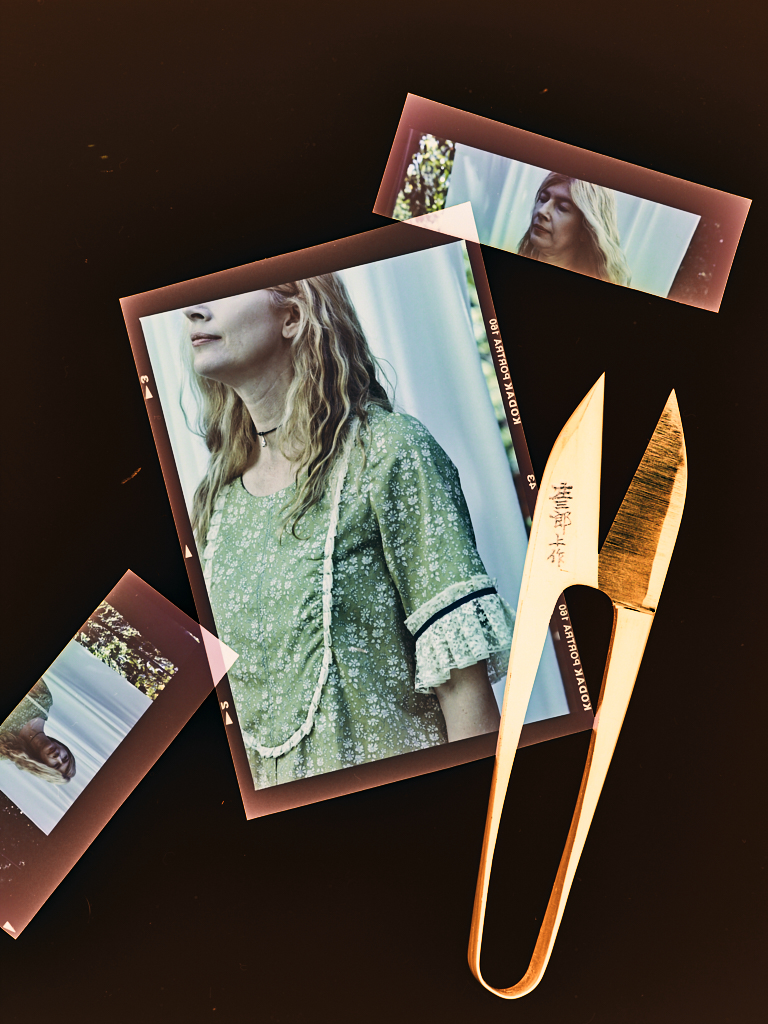 Pattern, Merchant and Mills, The Dress Shirt
Fabric, Liberty Lawn, B&J Fabric
Trim, Lace from my stash, Ribbon, Britex Fabric
Photography by Santiago Vanegas and Tracey Hogan
Okay, for those of you who want more details (Cissie, this is for you!), here's the deep dive into couture! I used the Merchant and Mills Dress Shirt pattern. The pattern is actually a dress length, which I shortened into a shirt. I combined a Liberty lawn with lace trim from my stash. (To read about my special laces, go here.) I was so excited about the sleeves that I made them first. I tried out a method for making pleats that has been all over Instagram. You've probably seen it, where you use a fork to grab and twist the trim as you are sewing it down to give you perfectly uniform pleats. I basted the lace pleats on first, then made another pass to attach the grosgrain ribbon. I used a smaller width lace trim around the bib, pleating that too. Although with the pleats around the bib, I didn't use the fork. I just eyeballed it. I basted the lace pleats first, then stitched the bib to the body of the shirt. (I wish that I did a better job sewing this part.  In the photos, all I can see are the places where the fabric is not really laying smoothly.  It doesn't look as bad in real life, so I may or may not fix it.)  I made a bib lining that I sewed in by hand to cover the interior seams. Then I used french seams throughout the rest of the shirt for a nice clean inside.
That's it for now. Currently, I'm working on creating a self-draped shirt and there's a lot that I'm trying to figure out, so I can't promise that you'll see me soon. But hopefully the wait will be worth it. Have a great summer everyone!