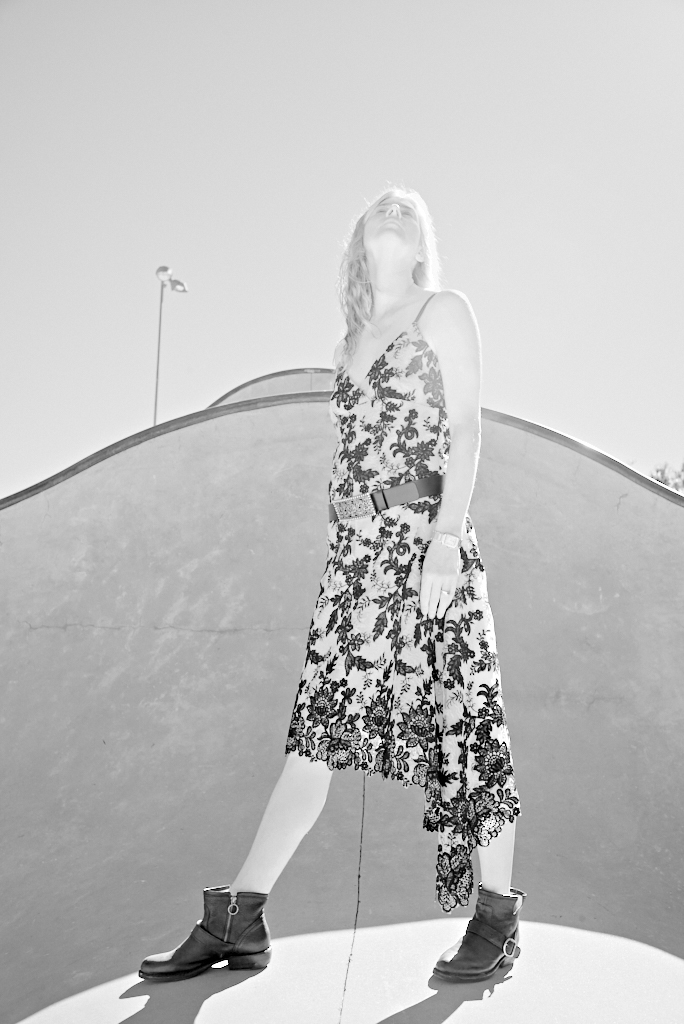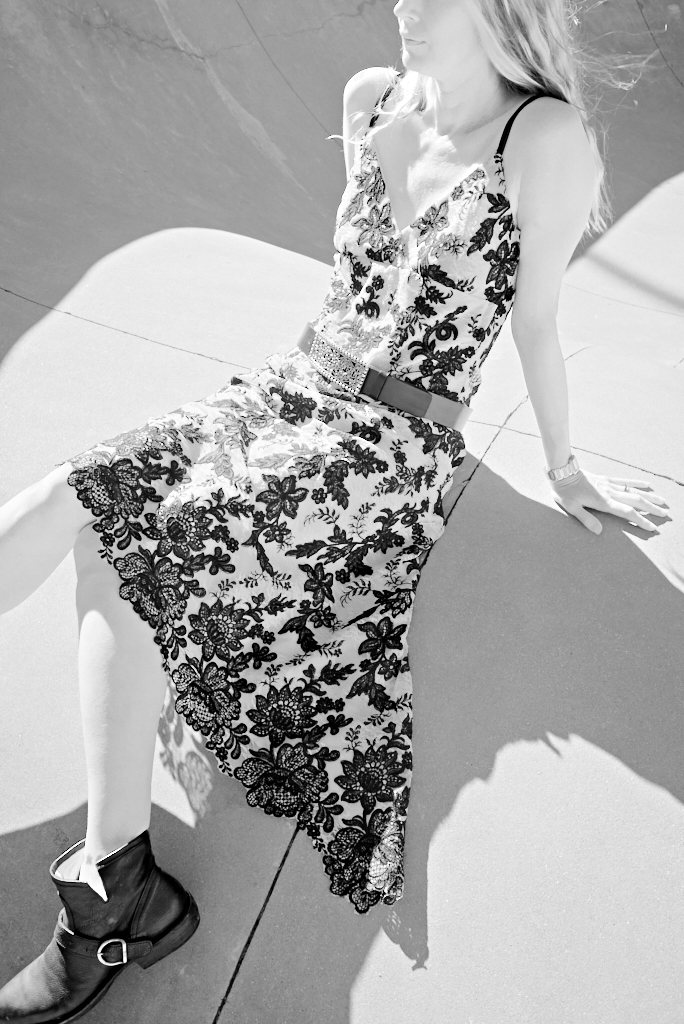 Last summer, I met up in New York with my friend Leisa from A Challenging Sew. We had the most fabulous day shopping in our favorite garment district places and discussing future sewing projects. While we were in B&J Fabrics, we both gravitated to this beautiful cream and black embroidered lace. This is always a dilemma. What do you do when two people like the same thing? Does one defer so that the other can have it exclusively? I was totally ready to say, "No, no, you should have it" when Leisa suggested that we create our own sewing challenge. What if we bought the same amount of the same fabric and then see what we came up with?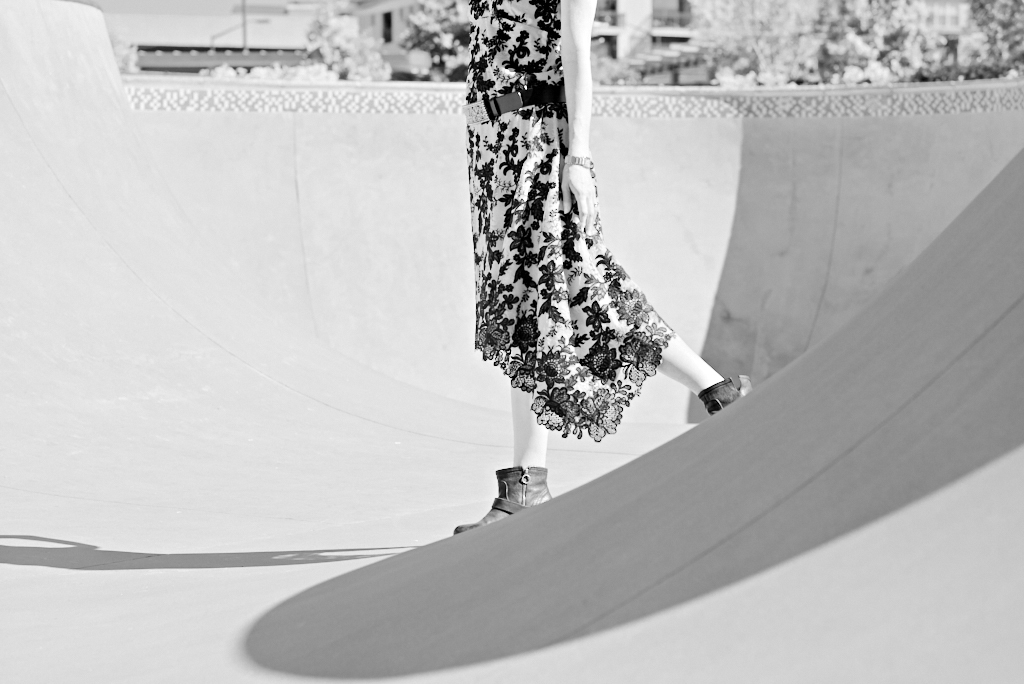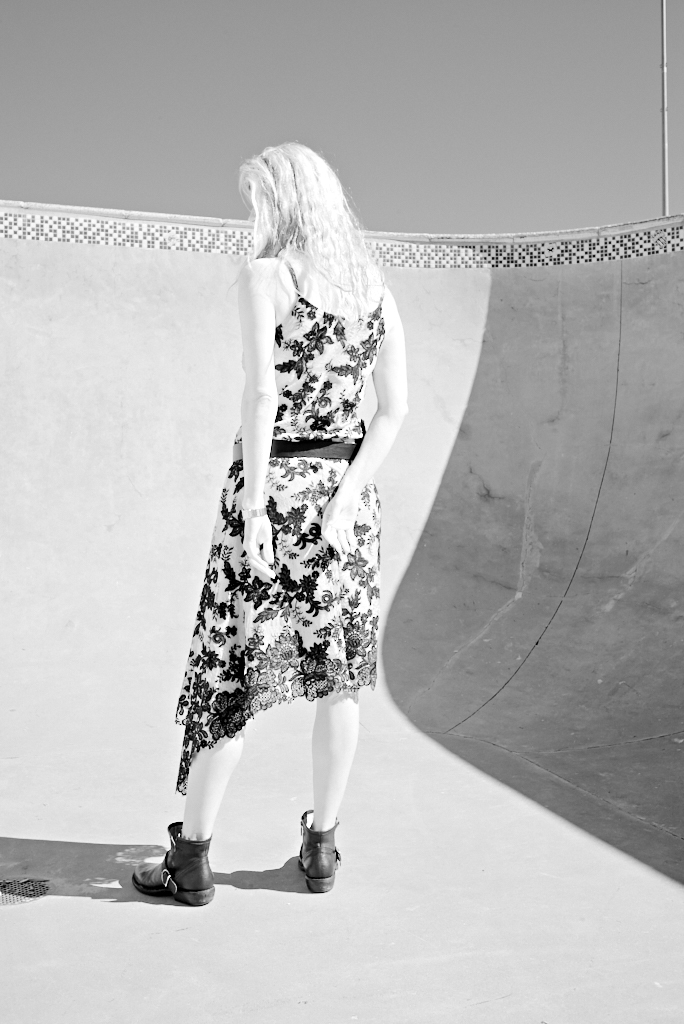 Well, I was thrilled that I dodged the whole "who's gonna get it?" problem and immediately jumped on her suggestion. Yes! Let's both work with the lace! We quickly hashed out some parameters—three yards of lace and an agreed upon date to simultaneously post our lace garments unique to our own aesthetic. Done! But then it started to dawn on me that I may have had a major lapse in judgment. Did I really just invite a comparison with someone who has the word "challenging" in the name of her blog? If you read Leisa's blog, you know that she only shows up with her A-game. I was really going to need to apply all my skills to come up with something that would measure up.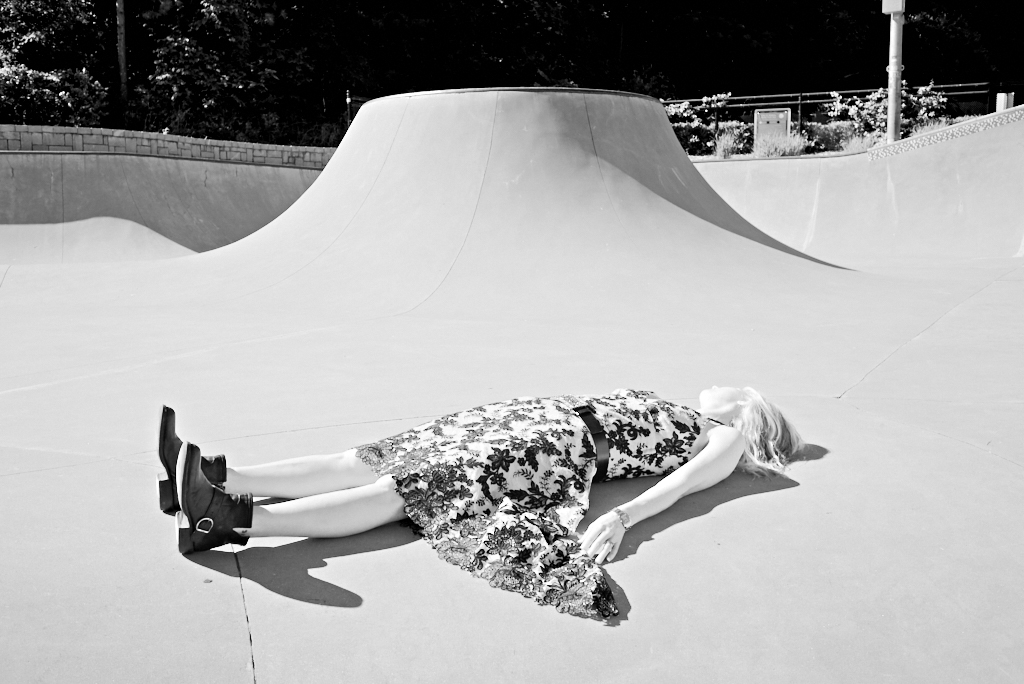 When I got home, I tried not to sweat it too much. No ideas were coming to mind (I would be a disaster on Project Runway!), but I figured that I would eventually come up with something to make. Damn, it sure did take awhile. The lace is so pretty, but it felt really fancy and high end which is SO not me. Don't get me wrong. I love working with fine fabrics, but my personal spin is always to figure out how to take something high end and bring it down to my casual lifestyle. Working with contrasts is my favorite way to dress. Pretty with tough or expensive with distressed. It's got to be high-low. But here's the problem. This lace does not want to go low. It's pretty. Period. No "tough" to be seen. Add to that the fact that I felt pressure to make something GOOD, and I was one stuck girl.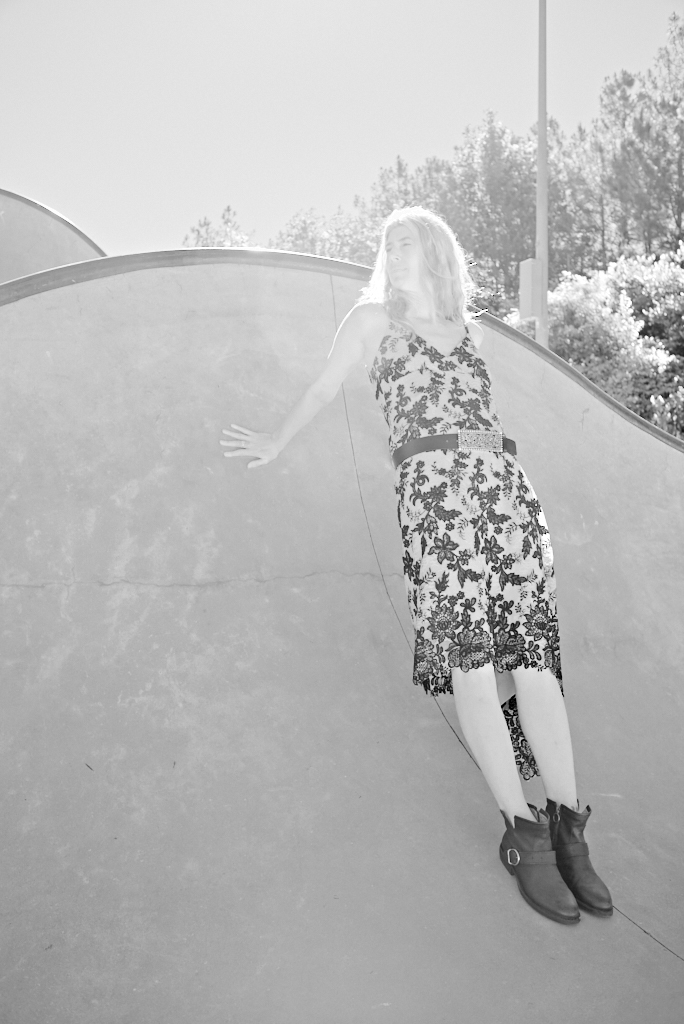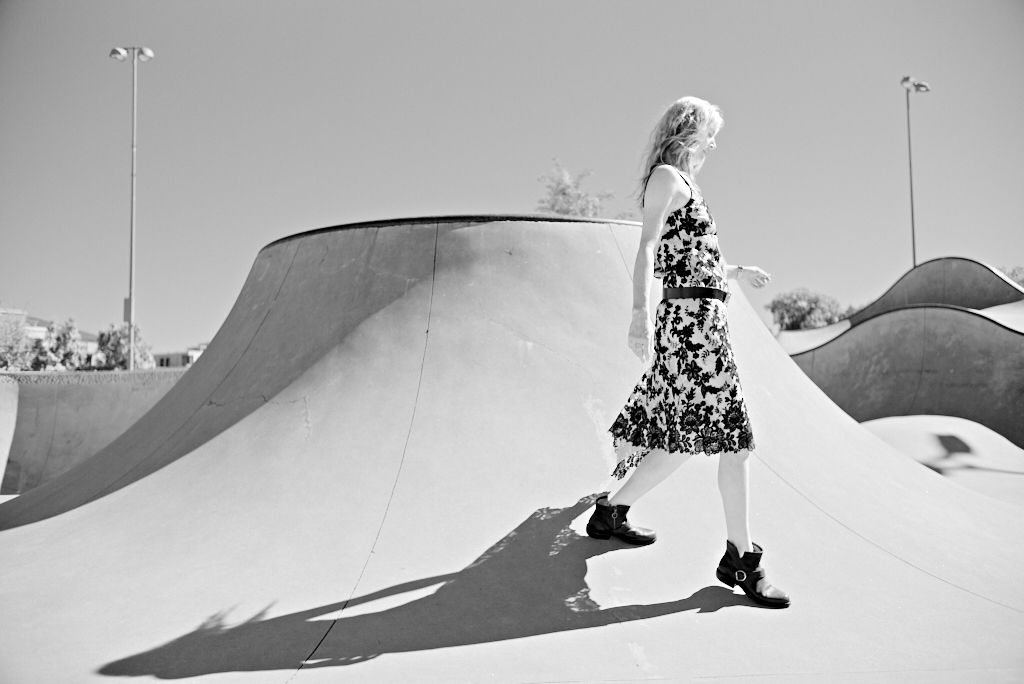 Then, I thought of something my dad used to say. Whenever he would get angry at a driver in front of him, he would yell, "Just do something, even if it's wrong!" Okay, time to do just that! Something! Anything! So that's what I did. I had been wanting to try a Marfy slip dress pattern that's a bit unusual with overlapping bust pieces, an empire waist seam, AND a drop waist. The pattern has kind of a 1920s lingerie look. I didn't have any real confidence that this would work with the lace, but I decided to jump in anyway.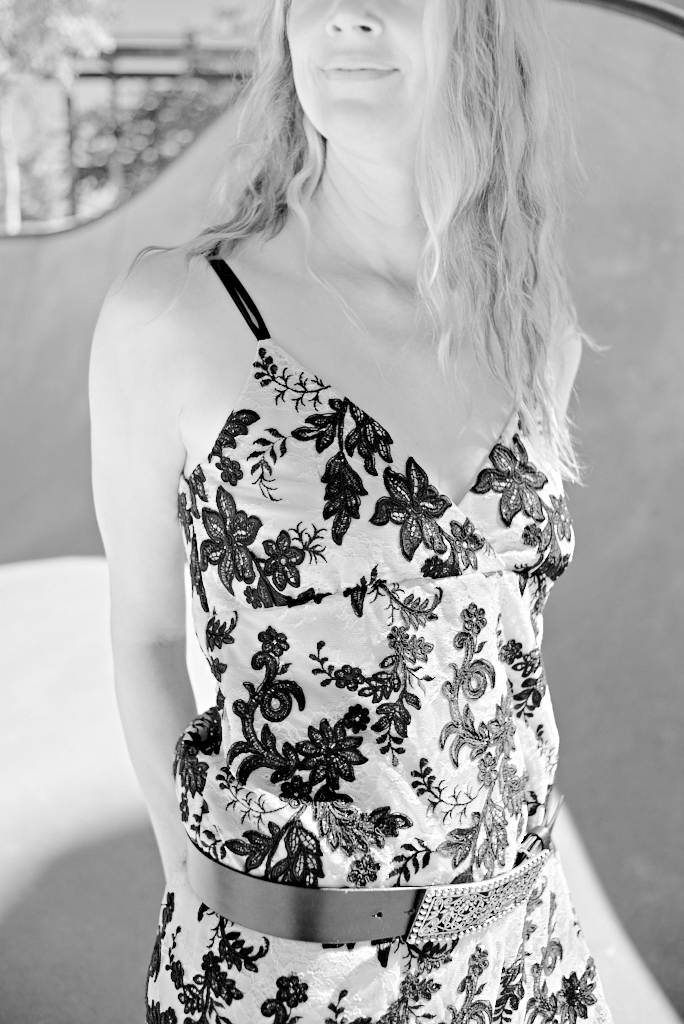 Working with the lace was a huge challenge for me. The black embroidery is thick and very stiff and resisted most of my attempts to manipulate it. I just had to get really strategic in how I cut it and pieced it together. The whole time I was working on the dress, there wasn't a moment when I didn't think, "yeah, this is gonna suck." It wasn't until I was completely finished that I took a step back and realized I LOVE IT! I mean, come on! That semi-handkerchief hem is absolutely to die for! And once I threw on my boots and my belt, there it was, that elusive tough quality I was lamenting it would never have. And while I didn't necessarily envision my dress as "skate park appropriate", I actually wasn't too uncomfortable in that dress in that environment. It kinda worked.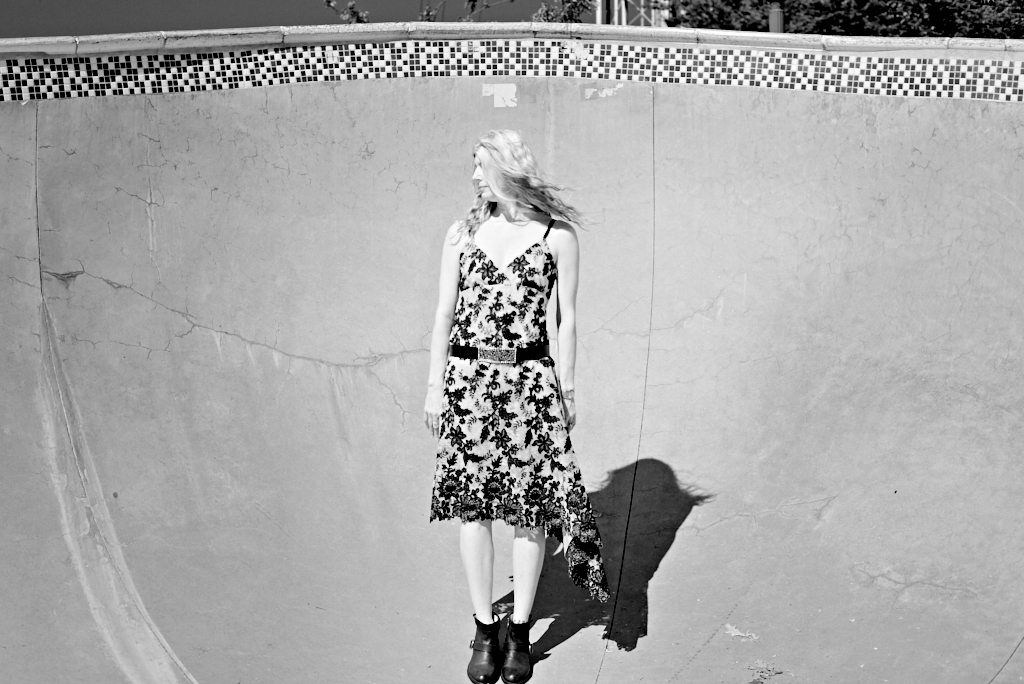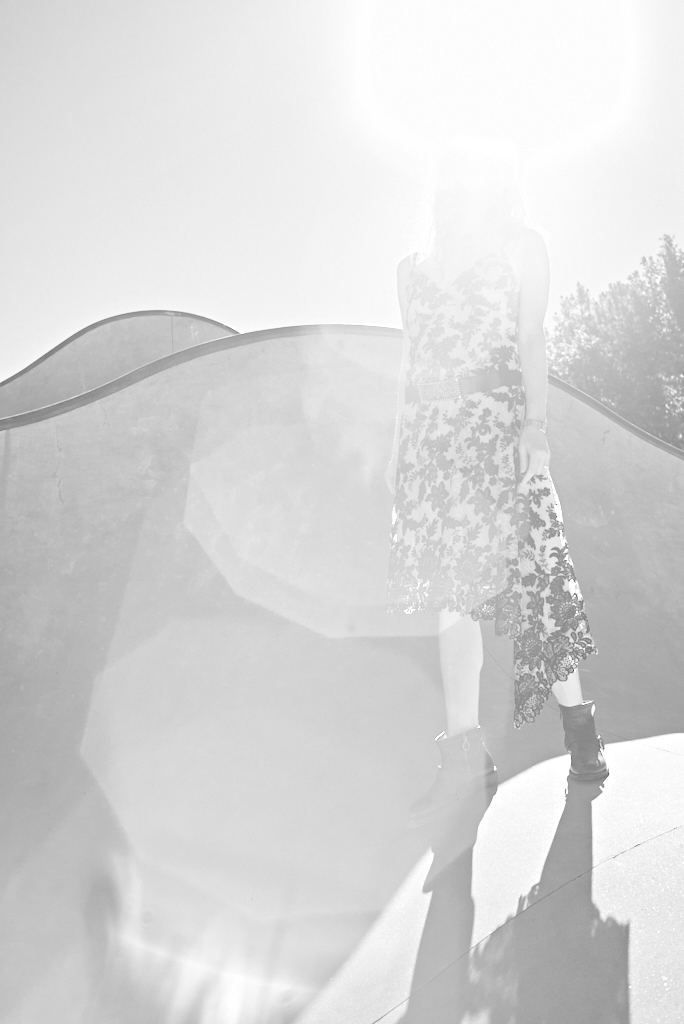 But my dress is only half of the story! To see the rest, you have to head over to A Challenging Sew and see what Leisa has been up to. I can guarantee it's going to be very very good!!  (I post mornings, she posts afternoons.  If it's not up yet, definitely check back.  It'll be worth it.)
Pattern, Marfy 3915
Fabric, Cream and Black Embroidered Lace, B&J Fabrics
Lining, Silk Crepe de Chine in Moonstruck, Mood Fabrics
Photography by Santiago Vanegas
Okay, for you couture geeks, here's some dress details.  The cross-over bust definitely makes the construction a little trickier when it comes to lining.  This is the third garment I've made with a cross over and it's always a puzzle to solve when it comes to covering the seams.  With this dress, the lace is underlined and lined.  I had to attach the lining on the bust before it was sewn together.  I covered the seam allowance by hand fell stitching the lower bodice lining piece at the empire waist.  The lace on the skirt was not underlined, but does have a lining which is strategically tacked at the hem point and a few points throughout so that the pointed portion of the hem lining stays underneath the lace.  There is a side zipper put in by hand using a pick stitch.  I deviated from the original pattern and created a double spaghetti strap instead of a wide strap.  And as for the lace hem, I placed the pattern piece so that I could take advantage of the gorgeous decorative edge of the lace.  Once the skirt turns the corner at the squared off hem, obviously you're in the heart of the lace and there's no longer the lace selvedge.  So for continuity sake, I carefully cut away a section of the decorative border and hand appliquéd it on the other side of the hem point, placing the lace pattern so that it turned the corner seamlessly.